Jazz Loft Project
Originally published Thursday March 27, 2008 - Ken Jacob in relation to the South Atlantic States L1® Conference 2008

I am very pleased to announce a special lecture for Monday evening, before the music starts.
I need to give you a little background first.
W. Eugene Smith was a world famous American photographer. I venture to guess that all of you know his work if not his name as he was one of Life Magazine's most gifted artists. I include here one image from one of the most famous Life Magazine essays called "The Country Doctor". There are many other Smith images that are world famous.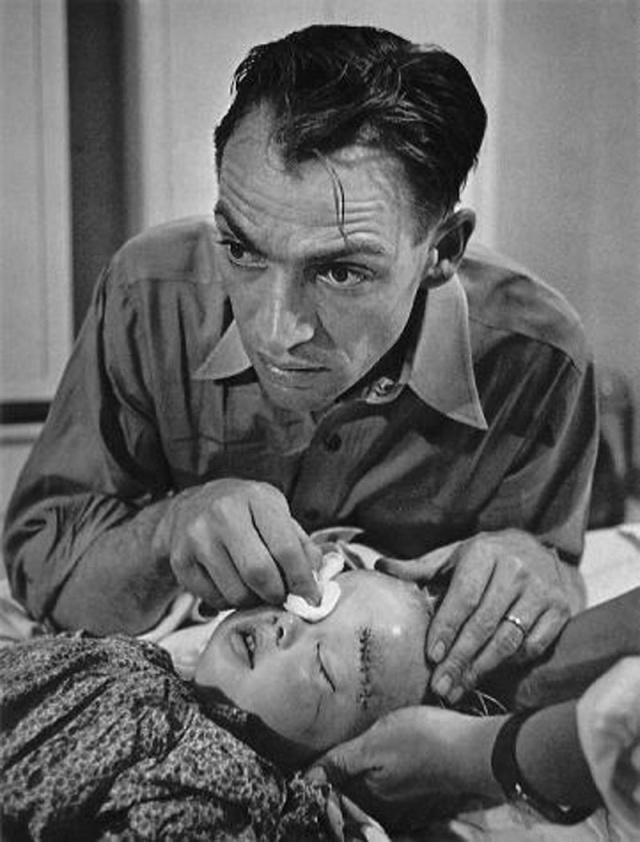 In the 50's Smith quit Life Magazine and began a magnum opus: to capture an American City in images. Smith chose Pittsburgh. Although many of the pictures from this huge undertaking have also become world famous, the project nearly killed Smith.
He dropped out of the scene and disappeared.
But not really.
Duke University senior researcher Sam Stephenson wrote a critically acclaimed book on the Smith's Pittsburgh project called "Dream Street" and in the course of his research of course became familiar with the life and times of W. Eugene Smith.
One of the venues for Stephenson's research was the University of Arizona, where Smith's huge archive is kept. (I can not recall the exact details, but many moving trucks were needed to bring all of Smith's work to the U of A.
One day recently, Stephenson was working in the archive and he asked the curator about a great deal of boxes stacked along an out of the way wall.
When opened, a discovery was made that for historians and enthusiasts of what is arguably one of the most important eras in US cultural history would liken to discovering King Tut's tomb.
It turns out that Smith had not stopped working after his post-Pittsburgh-project collapse.
Smith had moved into a commercial loft building in the flower district of Manhattan in 1957. Unknown to almost everyone but the participants, the loft became a thriving scene for musicians and other artists. It was a place to rehearse, jam, and party at all hours. Some of the top names in jazz were there -- Thelonious Monk, Zoot Sims, Roland Kirk, Bill Evans, Chick Corea, Roy Haynes, and Lee Konitz, among others. Salvador Dali drops in. And so on.
How do we know this? Because inside those unopened boxes were 3,000 hours of recordings on 1,740 reel-to-reel tapes and nearly 40,000 photographs. Smith had wired the loft with microphones and tape recorders in a sophisticated manner (he had the same appetite for audio quality as he did for images) and had recorded the goings on.
One of the most extraordinary set of recordings captures rehearsals for what would become one of the most famous jazz recordings of all times: the Thelonious Monk Orchestra at Town Hall in 1959. The Monk show was received by lukewarm praise by critics at the time and as a result subsequent performance dates for the music never panned out. Legendary producer Orrin Keepnews captured the Town Hall show and the recording has since landed on an exhaustive number of poeple's top ten list. Like Miles Davis's Kind of Blue, Monk's Town Hall recording keeps being discovered by new audiences year after year.
(The photograph here of Monk is by Smith from the loft.)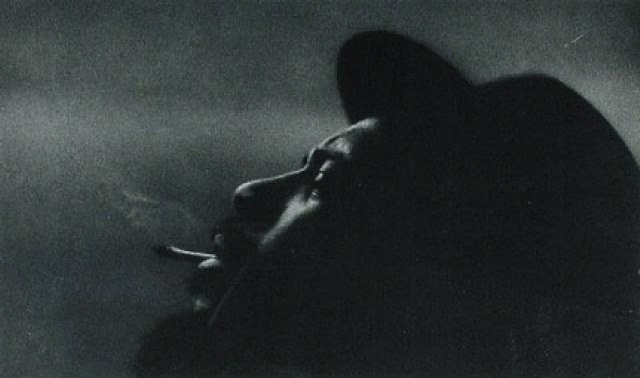 As a result of its popularity, and the recognition over the years of it's sophistication, there's been endless speculation about how the music was created. Critics and jazz heavyweights have taken the scant evidence of both Monk as an offstage musician and of the credited arranger Hall Overton and spun wild tales of how this genius music came together.
Some, in what could be called a racist construction, assumed that Overton was the mastermind behind the music, being a (white) faculty member at the revered Julliard School. Others said that Monk was so laconic he could never had put together the complex arrangements.
Smith's tapes and photographs from the loft prove otherwise. Staggeringly and profoundly so. Among other things, they have single handedly changed Monk scholarship in a new direction: without revealing too much, it turns out Monk wasn't so laconic after all.
And this is just one of the stories from the loft.
This massive cultural goldmine and the scholarship behind understanding what's in it has become known as The Jazz Loft Project. Next year it will be featured in a major public radio series, a new book by project director Sam Stephenson, a major travelling exhibition, and two concerts at Town Hall, one by Jason Moran who has written a new composition about the Town Hall concert, and a full recreation of the original music by a band led by James Tolliver. All of this kicks off in early 2009.
Sam Stephenson will give us a presentation on Monday night about the project. We are likely to hear recordings and see images not seen outside the project and before any public screenings. I am very honored to have this very unusual opportunity.
What is the connection to the L1 system?
Art.
Culture.
Music.
Community.
Misunderstanding.
Struggle.
The gentle opening of life that comes to the curious.

-- Ken Jacob
Added March 27, 2008
Here's the most famous shot from the Country Doctor series in Life. I think most of you will recognize this.
The original caption read:
"AFTER MIDNIGHT, after an operation which lasted until 2 a.m., Ceriani had a cup of coffee and cigaret in the hospital kitchen before starting home. The nurses constantly admonish him to relax and rest, but because they are well aware that he cannot, they keep a potful of fresh coffee simmering for him at all hours."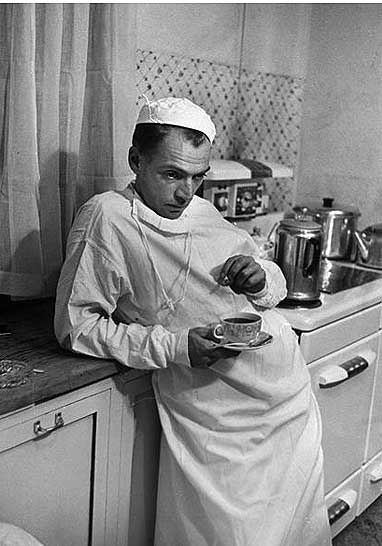 ---