South Atlantic States L1® Conference 2008
'Little Switzerland'

Please use this page to share your ideas and plans for the event. To add to the page Click the edit tab above. If you create an account - please use the same "Name" as you use on the Bose® Pro Portable PA Community so we'll recognize you. The idea is to use this page for ideas that are fairly firm, and use the message board discussions for the ongoing conversation.

Fast Facts

It's all so real that people are booking their rooms! ST 14:49, 21 March 2008 (EDT)

Discussions about the conference

These are on the Bose Musicians Message Boards
Venue
Switzerland Inn / Geneva Hall
Switzerland Inn
Mountain View Restaurant (Buildings 12 and 13): quoting Eve-at-Bose[1]: "12+13. (Gary the Manager) said he'll let you guys use this room for free for your performances. It's actually 2 35'x36' foot rooms that used to have a wall between them, but the wall got knocked down, and there are some bathrooms built at either side, so that the opening is only 16' wide, but he said he uses it as one big banquet room (35'x72'). "
Another option is the Geneva Hall nearby. The Geneva Hall can be rented for $150 to $200 day. (probably weekend vs weekday rate). See John Sweets detailed notes:
Called Switzerland Inn - spoke to nice man named Jack.

Jack said Geneva Hall can be rented for $150 to $200 day. (probably weekend vs weekday rate).
Their standard rooms rates on weekends are (for mountain view) $110 / night to $170 / night for a larger room with two queens.
They discount the rooms (with a booking of 20 or more rooms) $30 on weekdays. (Sunday - Thursday).
They can provide all meals and offer full bar service. Every Friday night they have a Prim Rib and Seafood buffet. Or, if we had 75 people or more, they'd provide the buffet for us exclusively some other evening. They can do things like "three menu option" meals as well.
Geneva Hall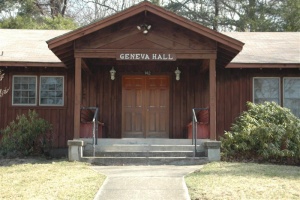 Geneva Hall is a country meeting hall. It is all wood. Wood floors, walls, ceiling. Approximate dimensions are 30x60. There are approximately 50 metal fold-up chairs. There is a small raised stage in one corner. It is raised approximately 8". There is a kitchen and refrigerator. We could provide beverage services. We do have a nice patio on the lobby of the lodge; it is not covered.
Pictures of Geneva Hall added today, 3-17-08.
Lodging
We are booking rooms at the Switzerland Inn
Toll-free: 1-800-654-4026
Phone: 1-828-765-2153
Fax: 1-828-765-0049
Office Hours: 9:00am - 5:00pm Monday - Saturday
Email: info@switzerlandinn.com
Quoting Eve-at-Bose[1] (referring to the site map above)
There is a good variety of rooms and prices. For those who want to save money and go more rustic, there is #19 (Edelweiss) which has 8 bedrooms for $50 each. The A-Frames are so cute, and there are more apartment type accommodations. He said that you can take $20 off whatever rate you see on the site. Right now there is no one else booked there.
Update: The rate is now $30 off whatever you see on the site. You must mention that you are with the Bose group.
RV's are fine. He has a space with electric and water hook up, but not sewer.
Food
Bose will host one of the two dinners, probably Monday night. - Ken-at-Bose
On the Grid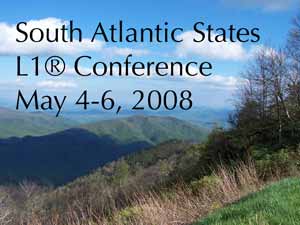 There will be wireless Internet access (being installed on April 15th). This should cover most of the area including the Mountain View Dining Room where most of the action will be. This should also cover the main lodge (Building 10)
There is good cell phone coverage.
Airport
Within easy driving distance:
Commercial Service:
Asheville, NC (AVL) - 1 1/2 hours
Charlotte, NC (CLT) - 2 1/2 hours
Blountville, TN (TRI) - 1 1/2 hours
Greensboro, NC (GSO) - 2 3/4 hours
If you can fly yourself in:
Date
Confirmed: May 4, 5, 6 (Sunday Monday Tuesday)]
Events Sunday night, all day Monday, wrap up by mid-day Tuesday
What will it cost
There is no cost to attend the conference. You are responsible for your own travel expenses, room and board.

See: Lodging for details of costs at the site.
Things to do in the area
Hiking is abundant.

There are hiking trails to water falls very nearby and a mountain (by east coast standards) 15 miles away for a good 5 - 6 hour hike.
Take a tour of Biltmore, possibly the largest residence ever constructed in America (by a Vanderbilt). Even if you are grossed out by the excess, you can't help but be amazed, over and over. Beyond the house are gardens, grounds and forests. Restaurants on premises. Arrive as soon as the estate opens in the morning for the best experience of the house.
Shop in the "quaint" district in nearby Asheville.
Weather - What to Wear
10 Day Weather forecast for Little Switzerland, NC
| | | | |
| --- | --- | --- | --- |
| Month | High Temp | Low Temp | Rainfall |
| April | 65°F | 37°F | 4.60 in. |
| May | 72°F | 45°F | 5.32 in. |
Let us know you are coming
Please add your name to the list below if are coming or close to making your decision.
Put an asterix at the beginning of the line, then your Bose Message Board name, your real name, the number of people in your party and anything else you want others to know (examples: where you are coming from, arrival date, free seats in your car)
L1® Owners and interested parties
Col. Andy (2) Andy & Pam Rucker
Drumr (2) Julie & Pete Vredenburgh
Roy (2) Martha & Roy Swindelle + Dog Dyno Rat
ST (1) ST
Tom Munch (1) Tom Munch
gitarzan (1) Larry Myers
Joelheck (1) Joel Heckman (Villages/Orlando FL) Possible ride share, Leave FL 3rd, Return afternoon 6th
Oldghm (1) Wife and dog subject to change mind
JohnNell (1) John - arriving Sat., May 3, staying in Main Lodge
Troisnoir (1) Tres Black, ridesharing with JoelHeck, arriving/departing same as above
PmP (2) Mike Pinnick - Just found out the singer from my band (Ray Bell) is joining me.
BBE (1) Nathan Carls, driving, Saturday afternoon through Tuesday, Lodge
DanCornett (1) driving, arriving Sat mid-day, through mid-day Tuesday.
Porchboard (3) Nadene Isackson, Bill Stevens, Dean Dwyer - Monday day/evening only
rwj (1) Rick Jordan, driving, Sat. afternoon-Tues.noon.
mdavis (1) Mike Davis, driving (Charlotte, NC area), arriving Monday morning - Tuesday
People-at-Bose
Chris-at-Bose (1) Chris Ickler (driving in Sunday PM, driving out Tuesday PM)
Cliff-at-Bose (4) Cliff Henricksen and the 3 other members of the Cliff Henricksen band
Eve-at-Bose (1)
Ken-at-Bose (number of people) Ken Jacob
MikeZ-at-Bose (Mike Zartarian)
Steve-at-Bose (1) Steve Skillings
Wiek-at-Bose (1) Wiechert Vermeulen (Bose Europe)
Guy-at-Bose (1) Guy Balbeart (Bose Europe)
Hideki-at-Bose (1) Hideki Yajima (Bose Japan)
Hiroki-at-Bose (1) Hiroki Nagatani (Bose Japan)
Neil-at-Bose (1) Neil Chauvin (Base Operations)
Kensuke-at-Bose (1) Kensuke Yamamoto (Bose Japan)
Performers
When we know when and where things are happening we will use this section to list who is performing.
Cliff Henricksen Band
A note from Cliff-at-Bose
I'm delighted to announce that The Entire Cliff Henricksen Band will arrive at the Spring Conference in Ashville. Players are as follows:
Tom Beier, drums and vocals (Tom is a Bose employee and a great drummer and singer)
Tom Yates, guitar and vocals (Tom is winner of GC's "King of the Blues" national contest, I think 3 times, sings lead too)
GW Jenkins, bass and vocals (GW is playing a Steinberger Synapse bass, best definition we found yet)
Me, keys and vocal
When we're all playing and singing, it's a really full and rich 8-instrument presentation. I'm so pleased this worked out and I think it will be a real treat for everyone. As always, our show will be very dynamic, kid-safe and not too loud.
We'll be doing a complete set of original tunes for you, including a walk-on announcement, time slot tbd (Ken). MikeZ asked if we could be lab rats for an in-process solo v/s ensemble tone workshop, including an all-invited onstage walk-about. I'm also in the final stages of possibly organizing a very exciting workshop on making your musical enterprise more valuable (can you say "sales"?), including a surprise guest.
Recording
We'll have a 2-track recording setup on hand. Laptop with Audacity on it, an MAudio USB stereo interface/preamp and a pair of Shure SM81.
If you want a copy of any of the music you play, bring one of those ($12) 2GB memory sticks and take it home that way.
Equipment Provided
Many of the people who might be driving volunteered to bring gear.
If you don't see it here and want it, then plan on bringing it with you. And if you are bringing something, then please sign in here and add your stuff to the list. Thanks.
L1® Classics / Model I
2 L1 Classics with 3 B1's - PmP
3 L1 Classics with 4 B1's and 1 A1 are available if needed. - Gitarzan
L1® Model II
2- Model IIs - Drumr
2- Model IIs - Roy
2- Model IIs - Oldghm
1- Model II - Col. Andy
T1®
3- T1's - (w/1 Power supply) Drumr
2- T1's - Roy
1- T1 - JohnNell (w/NS-Design presets)
1- T1 - Troisnoir
1- T1 - Col. Andy
1- T1 - Oldghm
1- T1 -rwj
2- T1's - Tom Munch
B1
8 - B1's & 2 - Packlite - Drumr
4 - B1's - Roy
# as needed, will confirm before departure, Oldghm
1 - B1 Col. Andy
Instruments
4pc Acoustic drum set w/cymbals (& microphones) - Drumr
TrapKAT electronic drum set - Drumr
2- drum thrones, drum rugs & sticks/brushes - Drumr
Korg N1 keyboard 88 weighted action w/stand and seat -Roy
I will bring an extra guitar for those who are flying in and don't to trust their's with the airline. Roy
I don't mind if someone plays my electric. It's a PRS and I have a vox tone lab. The acoustic I mentioned is a Guild with a fishman pickup. Roy
Gibson EB2D Bass Guitar - Joelheck
Porchboard - Oldghm, DanCornett
Taylor GS w/Expression System, custom Strat, Boss GT8 - Troisnoir
Resurrection Guitars Custom Electric, Takamine 12-String A/E, PODxtLive. Can bring plenty of other guitar gear as needed for those flying (Fender Tele, Brian Moore MIDI, Heritage 575, Roland VG-88&GR-30, Digitech GNX-3 available)
NS-Wav4 EUB - JohnNell
Taylor XXV-DR w/Expression System, Kramer American Pacer, Godin Multiac Steel, Mandolin, possibly others (guitar effects: POD XTL, Damage Control WMZ, Adrenalinn II)- Gitarzan
2 Takamine Natural Series acoustic guitars w cool tube preamps - Neil-at-Bose
2 Ovation acoustics Model TBD - Neil-at-Bose
GEM RPX piano module - Cliff-at-Bose
Nord Electro 61 organ (great Wurlitzer and Hammond/Leslie)- Cliff-at-Bose
Seagull acoustic guitar w/ pickup - DanCornett
old Epiphone electric bass - DanCornett
nice sounding d'jembe - DanCornett
misc. small percussive instruments - DanCornett
Acoustic Variax 700 + one other real acoustic/electric to be determined. Anyone is welcome to use these. - Col. Andy
Tele, Strat ... maybe a Les Paul. Some "been there, played that" guitars. - Steve-at-Bose
Taylor 414 ce le with expression system and Lr baggs imix installed. taylor nylon string- rwj
Larrivee OM5 or Collings C10 - Tom Munch
Fishman Pocket Blender - Tom Munch
Fishman Dreadnought Aura pedal - Tom Munch
Anderson Crowdster acoustic, Anderson Atom electric guitars, Audix OM5 - Mike Davis
Other
1 - Audix OM5 & D6 - Drumr
3 - Senn. E604 - Drumr
1 - Wireless EV767 - Joelheck
2 - EV 767's other assorted mics and stands - Roy
1 - SM58 - Troisnoir
Have a Digitech VocalistLive 2 if anyone wants to check one out before buying. PmP
1 - SH55 Series II - BBE
Audix OM5 & OM6, AudioTechica - Gitarzan
1 - Crown CM311A headset wireless - DanCornett
1 - Shure Beta 58A Col. Andy
1 - AKG 535 - Tom Munch
1 - Damage Control WMZ and Demonizer - Steve-at-Bose
1 - Blackheart 3~5 Watt guitar amp - Steve-at-Bose
1 - Senn e609 guitar cabinet mic & cable - Steve-at-Bose
1 - Pedal board with various pedals (Wah, TubeScreamer, delay, etc.) - Steve-at-Bose
Stands and ...
2 - Mic Stand w/boom - Drumr
1 - Mic stand w/boom - Joelheck
1 - Mic stand w/boom, (1) music stand (if I have room) Troisnoir
2 - Mic stand w/boom, Behringer mini mixer (if necessary), assorted power and mic cables - Gitarzan
2-3 - music stands; several mic stands (not sure how many, yet; min. 3, maybe more) - DanCornett
4 - Mic Stand W/BOOM 1 STAND W/GOOSE NECK TOTAL 5 - Roy
4 - Mic Stand w/boom - John Nell
1 - Mic Stand w/boom, 1 with T1 adapter, 1 folding music stand,and 1 roll duct tape - Col. Andy
Lights
Chauvet PK-1 Rocklite compact lighting pkg w/stands (if needed) - Drumr
Program Agenda
This is preliminary - and unfortunately, not in an easy format to edit. At this point all that should be required is to add the names of the performers for the musical interludes marked TBD. If you have information to add for those sections please Send ST a Private Message
Agenda Possibilities ongoing discussion of potential topics
Saturday
 
 
 
2:00 - 12:00
Equipment setup
Early arrivals
Geneva Hall only, Mountain View tomorrow
2:00 - 12:00
Ensemble rehearsals
Early arrivals
Geneva Hall only
2:00 - 12:00
Informal music
Early arrivals
Geneva Hall only
Sunday
Tom Munch/Larry Myers: Musical coordinator, Tom Beier: Technical Coordinator
 
 
10:00 - 2:00
Free time
Early arrivals
Mountain View
2:00 - 4:00
ToneMatch custom presets
Clifford Henricksen and Mike Zartarian
Mountain View (back)
2:00 - 3:30
Electric guitar workshop
Steve Skillings
Geneva Hall
3:30 - 4:00
ToneMatch update including new Takamine and Ovation presets
Neil Chauvin
Mountain View
4:00 - 5:00
Informal meet and greet
All
Mountain View
4:30 - 5:00
Introductions (one paragraph on why you are here and what you hope to get out of the conference)
All
Mountain View
5:00 - 5:15
Opening remarks
Ken Jacob
Mountain View
5:15 - 5:45
Our L1 community
ST
Mountain View
5:45 - 6:00
Musical interlude
TBD
Mountain View
6:00 - 8:00
Dinner & free time
All
Dining room
8:00 - 9:00
Getting great vocal and acoustic guitar tone

 

Tom Munch
Mountain View
9:00 - 10:30
Music (solos, duos, trios) See Tom Munch or Larry Myers to get on the schedule
Mountain View
10:30 - 12:00
Music See Tom Munch or Larry Myers to get on the schedule
Geneva Hall
10:30 - …
Cliff Henricksen Band followed by other bands using drums
Monday
Pete V (Drumr): Musical coordinator, Wiechert V: Technical coordinator
 
 
9:00 - 10:30
Foundations of psychoacoustics
Chris Ickler
Mountain View
10:30 - 11:00
Musical interlude
TBD
11:00 - 12:00
Questions & discussions: Using the L1 in difficult situations
Steve, Chris, Mike, Ken
12:00 - 1:00
Lunch
Dining room
1:30 - 2:00
Musical interlude
TBD
Mountain View
2:00 - 3:00
Room acoustics for musicians
Ken Jacob
Mountain View
3:00 - 4:00
Ensemble workshop
Mike Zartarian & Cliff Henricksen
Geneva Hall
4:00 - 5:00
What's wrong with this picture? Making it right for the audience
ST
Mountain View / Geneva Hall
5:00 - 5:30
Porchboard Bass system
Nadene Isackson, Bill Stevens, Dean Dwyer
Mountain View
6:00 - 7:30
Dinner (sponsored by Bose)
Dining room
7:30 - 9:00
The Jazz Loft Project
Sam Stephenson, Duke University
Mountain View
9:00 - 10:30
Music (solos, duos, trios)

 

See Pete V (Drumr)  to get on the

schedule, Wiechert for technical needs
Mountain View
11:00 - 1:00
Music (groups with drums)

See Pete V (Drumr)  to get on the

schedule, Wiechert for technical needs
Geneva Hall
Tuesday
 
 
 
9:00 - 11:00
L1 future discussion
Hosted by Bose staff
Mountain View
11:00 - 12:00
Farewells
All
Monday Night
<linkedimage> wikipage=Jazz Loft Project tooltip=Monk:The Jazz Loft Project img_src=MonkKenJacob.jpg img_width=200px img_alt=Monk: The Jazz Loft Project </linkedimage>
Other Presentations
NOTE: My portable DLP projector (2000 lumens) and screen will be available for anyone needing to show a slide presentation - JohnNell
"Photos of the Day" - Continuous slideshow of informal pictures taken during the conference will be available for viewing
Music Sign Up Sheet
Add your name below if you would like to perform (Start each new line with an asterix)
Sunday Night
i will give it a shot. Sunday or Monday works for me - Roy
Either night- no problem, besides someone always needs a Bass player - Joelheck
Willing/able to sit in (primarily rhythm guitar) with anyone/most any style. You don't want me to sing...PmP
I would play - either night - Tom (I'd rather hear someone who hasn't played at one of these yet though)
Either - DanCornett
I'll play either night (using my stereo Taylor setup) Rick Jordan
Oldghm, Drumr, ST - or Monday -
ST or Monday
I can do 2-3 solo acoustic songs - Troisnoir
Monday Night
Either night- no problem, besides someone always needs a Bass player - Joelheck
Willing/able to sit in (primarily rhythm guitar) with anyone/most any style. You STILL don't want me to sing...PmP
Nathan Carls & The Impromptones
I'm an accompanist -- whoever wants to have added keys, bass, percussives, humms or harmonies, ... - DanCornett
Oldghm, Drumr, ST - or Sunday
ST - or Sunday
Mike Davis - solo and/or group. guitar & vocal. mdavisband.com
ToneMatch® Custom Preset Filter - Sign up
Please add your name here if you would like to work with Cliff and Mike to create a custom ToneMatch® Preset Filter.
Baby Blue Eyes - Shure SH55 Series II microphone
Gitarzan - Taylor XXV-DR, Godin Multiac Steel
PmP - Resurrection Guitars Custom Made Bass
Extra-Curricular Activities - Sign up
Some people have expressed an interest in having some activities that are not formally included in the conference agenda. Please use the space below to indicate your interest in activities like this. Note: The Mountain View Room and the Geneva Hall are booked for conference activities. You will need to make separate arrangements if you need a venue for your activity.
Sunday Hike
Details
Organizer __________________
Meet at time _________________
Meet at location _________________
Participants
Tom Munch
Larry Myers
O..
Sunday Worship
Details
Organizer - Nathan Carls
Meet at time - Tentatively 9:30 (post breakfast, anyway) Depending on hikers, who may also want to do this, we can adjust the time.
Meet at location - I'm hoping we can do this outside somewhere.
Participants
Nathan Carls
Rick Jordan
Larry Myers
Dan Cornett
O..
Pete
Tres & Rachel Black
Other Activities
Example if you want to add a new extra curricular activity
Details
Organizer __________________
Meet at time _________________
Meet at location _________________
Make this your signature
Copy / paste this (next line in the grey box - all the way to the right) into the signature line of your personal profile. (hint: in most Windows browsers, triple click on the text below and it should select what you need. Then ctrl-c to start the copy. Go to your personal profile, View/Edit your profile (right side of screen), click in the signature box, ctrl-v to paste it. Scroll down and click the Submit button to save the changes).
[url=http://www.toonz.ca/bose/wiki/index.php?title=South_Atlantic_States_L1%C2%AE_Conference_2008]South Atlantic States L1® Conference 2008[/url]


and it will look like this: South Atlantic States L1® Conference 2008

---
---